Who we are
Louise Dougill
After a few false starts in life and spending years desperately unhappy with what I had become, I took control and made some changes. I've never looked back as they say and wanted to help others make changes in their life.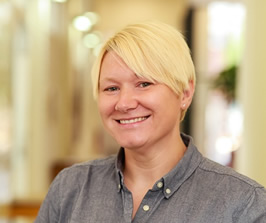 Following a couple of erratic career choices I fell into executive business coaching around 15 years ago and realised I had found the start of a vocation. It's such a different feeling getting out of bed for a vocation and not just a job. I didn't know that until it happened.
Enabling someone to have a light-bulb moment and seeing them find their own way forward is something I knew I wanted to do for the rest of my life. Building on coaching, I decided to also study in a more therapeutic capacity becoming qualified in both Hypnotherapy and Psychotherapeutic Counselling.
My corporate background:
I've spent around 15 years successfully working in large organisations coaching senior leadership teams and high potential successors around their focus, development, performance and motivation whilst also exploring the things holding them back.
I have held a number of senior HR roles facing into the Talent, Project, Org Design & Leadership Development space both creating and embedding a learning culture and instigating talent management, to the design and facilitation of impactful learning experiences.
My therapeutic background:
In contrast to the above I have extensive experience working with those who work for themselves or are looking to start a new career.
I became interested in Hypnotherapy with a view to being able to further support those who had unconscious beliefs and blockers that were holding them back from what they truly wanted.
Coaching, counselling or therapy for some is simply not enough to overcome the power and ingrained damage of a long standing barrier, habit or subconscious belief so I often use a combination of the therapies.
Like you, probably, I was very sceptical about Hypnotherapy and whether it worked at first.
Please read more about this in the Hypnotherapy page!
My own journey has been incredible and I'm so privileged to have been able to help re-shape so many people's lives, empowering them to go on and fulfil their desires.
I can help anyone from any walk of life make a change if they are truly committed and want to take action now.
For those who like the detail:
Qualifications/Professional Memberships:
CIPD Intermediate Certificate in Organisational Coaching & Mentoring
Advanced Professional Diploma in Psychotherapeutic Counselling AdDip PC
Diploma in Hypnotherapy Dip Hyp CS
Professional Diploma in Psychosexual Dysfunction
Accredited by: The Royal College of Nursing, The National Hypnotherapy society, General Hypnotherapy Standards Council
Professional Member of:
The National Hypnotherapy Society
The National Counselling Society
Chartered Institute of Personnel Development
What can you expect from me?
So, first and foremost I offer you my full confidence. I run a professional and discreet service where confidentiality is my prime focus, so whatever your background I'm committed to your privacy. It's totally up to you who you want to share your experience with (as I love friends and family referral like the next person), but rest assured I offer a total confidentiality to suit your needs.
Although I work nationally, I'm based in Leeds and offer flexible appointments around your commitments. You're not obliged to use my private therapy suite however I can only work in a suitable environment as you'll appreciate. I'm happy to discuss travelling to you.
I also offer you total honesty. Sometimes where we haven't yet fully come to terms with our issues you may find honesty hard to handle - this is normal, however it's a really important part of being able to properly move forward. I'll also be honest if I don't think Hypnotherapy is the right option for you. We have to have rapport to be able to trust and effectively work together, so if you don't like me or I don't feel I'm best skilled to work with you, the deal has to be that we're upfront. I'll happily make some suggestions around professionals who may better suit your needs.
For more details please click here If there's anything else you want to know about me or what I can offer you just ask!